April 7, 2021

13:13
Four Pinocchio Joe makes potentially costly comments for Atlanta.
Major League Baseball makes a major decision to move the All Star game away from Atlanta. In a press release on April 2, 2021 the MLB sites "the Clubs, former and current players, the Players Association and The Players Alliance, among others, to listen to their views."as the reason for the ...
February 19, 2018

10:10
FBI admits failure in School Shooting, Media focuses on Gun Control
CNN covered the FBI presser admiting to failing follow through on a lead that could have prevented the tragic school shooting. While most of the networks news and panel discussions focus on calls for gun control.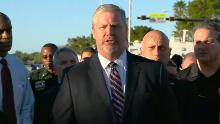 <full story> source: CNN.com
February 16, 2018

19:00

16:29
HLN/CNN Host defends the NRA & Gun Rights Advocates


HLN,a sister network to CNN, does the unthinkable and defends the NRA and 2nd amendment advocates in the aftermath of the most recent school shooting. This is a rational presentation of the facts with a focus on actual solutions to mass shootings in America.