February 19, 2018

15:31
ABC Flooded With Complaints About Christian Mental Illness Comments
ABC's daytime show "The View" generates 25,363 complaint calls as demands for a formal apology reach fever pitch.
<full story> source: newsmax.com

10:10
FBI admits failure in School Shooting, Media focuses on Gun Control
CNN covered the FBI presser admiting to failing follow through on a lead that could have prevented the tragic school shooting. While most of the networks news and panel discussions focus on calls for gun control.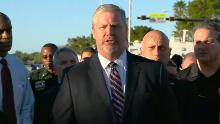 <full story> source: CNN.com
February 16, 2018

19:00

16:29
HLN/CNN Host defends the NRA & Gun Rights Advocates


HLN,a sister network to CNN, does the unthinkable and defends the NRA and 2nd amendment advocates in the aftermath of the most recent school shooting. This is a rational presentation of the facts with a focus on actual solutions to mass shootings in America.